Microblading Cincinnati Services By Better Brows
Microblading Cincinnati by Better Brows aims to give you comprehensive microblading information so you can make an informed decision about your microblading. In this post, I'll lay out everything you need to understand about microblading so by the end, you feel comfortable about finally getting the brows you've always wanted.
Microblading is a form of semi-permanent make up that gives the illusion of real hair-like strokes. Each hair stroke created blends and mimics your natural eyebrow hair. It is done manually with a hand tool where pigment is inserted into the skin. The result provides beautiful, real hair-like strokes, making the brows appear very natural. Check out some of the sample client results below!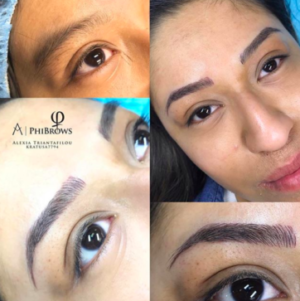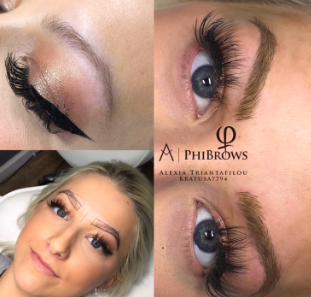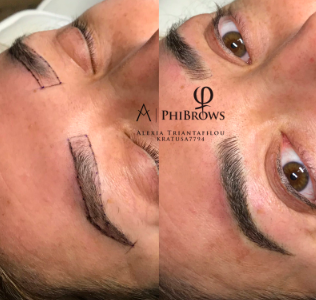 Microblading is also smudge proof and waterproof! We offer the greater Cincinnati Microblading community an enhanced look of your brows through our world famous PhiBrows method. Our proven microblading process is centered around recreating the shape, length, and fullness of the brows.
Microblading Cost:
Better Brows of Cincinnati Microblading costs breaks down as such:
New Client: $400 + tax
Microblading Touch Up (6-8 weeks) after the first session: $150 +tax
Microblading Touch up (6 months & Up)  from the last session: $250 +tax
*All prices are subject to change*
Who Is Microblading For?
Microblading is for anyone wanting to wake up with beautiful brows every day! This includes anyone not wanting to take the time to apply make up to their brows each morning including busy parents, business professions, water athletes, etc. Also, people suffering from alopecia, cancer, or other conditions that have caused hair loss benefited from microblading.
Does Microblading Hurt?
Of course everyone is different but on a scale of 1-10 most clients say it's a 2-3. Not bad right? We are often told it feels like a scratch and if anything just a little uncomfortable. We do use numbing which helps tremendously!  Our microblading Cincinnati studio makes the process very tolerable and worth it!
Microblading Healing Process
Below is the typical timeline you can expect your brows to heal:
Day 1-3: Your brows will appear darker and bolder than they will be when finished healing.
Day 4-5: Your brows will begin to lighten. Tiny pieces from your brows may start to flake off. This isn't the same as a scab. Tiny pieces only.
Day 6-7: Your brows will appear very light and you will wonder if this is normal…Yes it is! But be patient!
Day 8-30: The final color begins to come back and show through. Your brows may be 30% lighter than day 1.
Microblading Cincinnati Phibrows Artist
Better Brows Microblading Cincinnati services gives you the benefits of the world-famous Phibrows microblading process. Phibrows is a world renowned proven process that gives you perfect proportioned eyebrows according to your facial features. Symmetry is achieved with our Phicompass, which gives us each point of the eyebrows in order to make them perfect. We also use a Phiapp which double checks the symmetry of the brows. Here we can alter any changes in order to make the brows perfect, whcih we show to the client. Next we move onto the microblading process where we draw strokes in your natural hairs' growth direction in order to achieve the most natural look. Pigments used do not contain heavy metals and therefore do not turn colors during the healing process.
Microblading Cincinnati 6-Week Touch-Up
This is a two part process so you will need to come back for a 6-week touch-up. The brows will slightly shrink and may lighten in certain areas more than others so the touch up is the perfecting stage. We see where strokes need to be added and alter any changes you may want. You will still have awesome brows but adding more color on top and adjusting changes will change your brow game!
How Often Do You Need A Touch-Up?
At our microblading Cincinnati studio you will need a touch-up usually anywhere between 6 and 12 months. A few factos can determine this. For example, having oily skin, tanning often, sweating often, getting makeup or foundation on the brows, and getting chemical peels/facials can fade the brows quicker. Whenever you feel like you are ready for a refresh we are here for you! If you are unsure, email us a picture at betterbrows.cincy@gmail.com and we will give you feedback whether we think you need a touch-up or not.
Who Should Not Get Microblading?
Here is a brief summary of the type of perspective client who may not be a good candidate for microblading. You can view the full article in its entirety here.
Anyone Pregnant/nursing
Those Under the age of 18
Those with Keloid scarring
Anyone Taking blood thinners
Those with Autoimmune disorder(s)
No botox 4 weeks before or after your appointment
If you've used Accutane within the last year
Not sick
If you have oily skin EMAIL a close up picture of your brow area. It is NOT a requirement to have oily skin. We just like to see a pic of oily skin.
If you've had your brows previously tattooed or microbladed then EMAIL a picture. It is NOT a requirement to have had your brows previously microbladed, we just like to see a picture to ensure we can microblade over old work.
No eczema, dermatitis, psoriasis, or rosacea
Not allergic to lidocaine or epinephrine
No surgeries 1 month before or after appointment
No heart conditions or on heart meds
Not sunburnt – we don't want you skin flaking
PLEASE NOTE: You will need to keep your brows out of the sun/tanning bed a month after your appointment, so if you have a vacation booked please schedule enough time out or wait until after!
WILL NEED A DOCTOR'S NOTE IF: diabetic, had chemotherapy within the last year, heart complications, epileptic
You do NOT need to wax, tweeze, or thread your brows prior. We will clean them for you!
Have questions? Check out our FAQ library here!
You can also check out the Better Brows YouTube channel for anymore content we publish that can help guide you on your path to microblading.