Microblading Gone Wrong Images And Articles Go Viral
Microblading gone wrong is often searched due to the botched eyebrows given to beautiful ladies around the world.  It is very frustrating whenever I see an article come out like this because this gives us experienced, well-trained artists a bad rep and hurts our business even if we have a perfect reputation. It makes people scared and reconsiders the thought of ever having microblading done even if you are in the best of hands.
Read an example article here.
Here is a picture of botched microblading: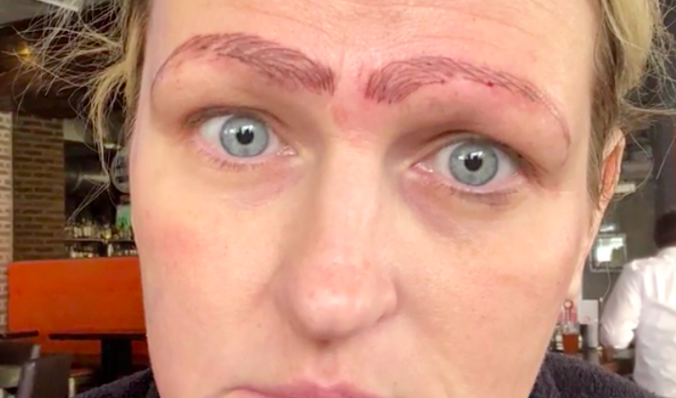 Question is, how does this even happen? Well, I want to tell you why these microblading gone wrong articles appear and what to do to avoid this happening to you if you are considering microblading.
Poor training is probably the number one reason "microblading gone wrong" is searched and shared. If you are trained properly, you should know exactly each step to take one after another to achieve the perfect brow for each client. If you are experienced, you know every person's face is different and they are coming to you for your level of expertise to give them the brows of their dreams.

Inexperienced artists are another huge reason for "microblading gone wrong" being a topic. There are so many classes out there that only offer a few days of training and give you a certificate and allow you to say you're certified in microblading when in reality it takes more than that to become an expert. This is someone's face we are talking that's also semi-permanent. Not makeup that can come off with some soap in the sink if you don't like it.

Not being properly licensed is another reason why "microblading gone wrong" is happening. This is often a scare when it comes to microblading because you would be surprised how many artists aren't sure what licenses they need for their state. Also, they may not be taught or even know that they need to do to get legal licenses. Most may not know to call their local health department to learn what licenses are required.

Some states are not on top of things in the microblading industry. Unfortunately and surprisingly there are some states that don't even require a tattoo license, first aid, or bloodborne pathogen certification. If this is not required an artist will not know proper handling for you and their own safety as well as if an emergency occurs with blood, how to properly clean up and handle the situation. Safety is such an important aspect in this field that I feel a lot of artists underestimate. For example, pre-sterilized and disposable tools are so much safer for the client than reusable tools. It is so much harder to keep stuff clean with reusable practices.

As silly as this may sound, a client's eager personality after training can hurt them. Think about it, if you only did a few days of training on one model only are you really ready to take on a bunch of new clients? Absolutely not! As said a million times, practice makes perfect and it doesn't come overnight!

Microblading may look like it's easy to learn from experts, but in reality, it's not! I don't care if you are one of those artists who can paint a tiger johnny on the spot blindfolded. Microblading is a completely different type of art! There are so many important factors including making sure your client is a good candidate and is safe for the procedure, creating a perfect shape that is symmetrical to frame the face nicely, selecting perfect color, creating beautiful strokes that are natural for the client's natural brow, proper depth, and providing proper aftercare. There are so many factors that must go right with microblading to really make sure the client is satisfied and safe!

Microblading safety should be a top priority practiced every single day with every client. If this was true though, the searched term "microblading gone wrong" would not be searched near as often as it is today. For example, viral infected microbladed brows got infected for a reason. Poor safety! As artists, we must cover all surfaces with a barrier film that we will be touching during each client's procedure to prevent cross-contamination happening from client to client. Also, we must use pre-sterilized and disposable tools so that way blood isn't transferred to the next client.
Do Your Research
In conclusion, to avoid this happening to you, do your research! As silly as this sounds if more people did proper research this wouldn't be happening, leaving these beauties with botched microbladed eyebrows. Ask a million questions! If an artist fails to give an answer then odds are they may not be who you want to go to. Remember, this is your face!!
You're In Good Hands With Us
At Better Brows, it is our priority to give top quality and safe microblading to each of you so you can share your experience with others with confidence!
We have over 2.5 years of experience, 60+ 5 Star reviews, trained by top artists in the world featured on Good Morning America, legally licensed, provide safe practices, and use disposable tools and supplies for every client.
Please reach out to us at betterbrows.cincy@gmail.com with any questions! We are here to help and look forward to providing you with the best-microbladed brows!
Check out how to find the best microblading artist near you here.
Check out our instagram here.