Better Brows YouTube Channel 
The Better Brows Youtube Channel is live! We are so happy to announce this news and are excited to share with you everything there is about Better Brows microblading! You will get to see behind the scenes, microblading Facts/FAQs, and video testimonials of previous clients sharing their experience.
Click here to check out our channel!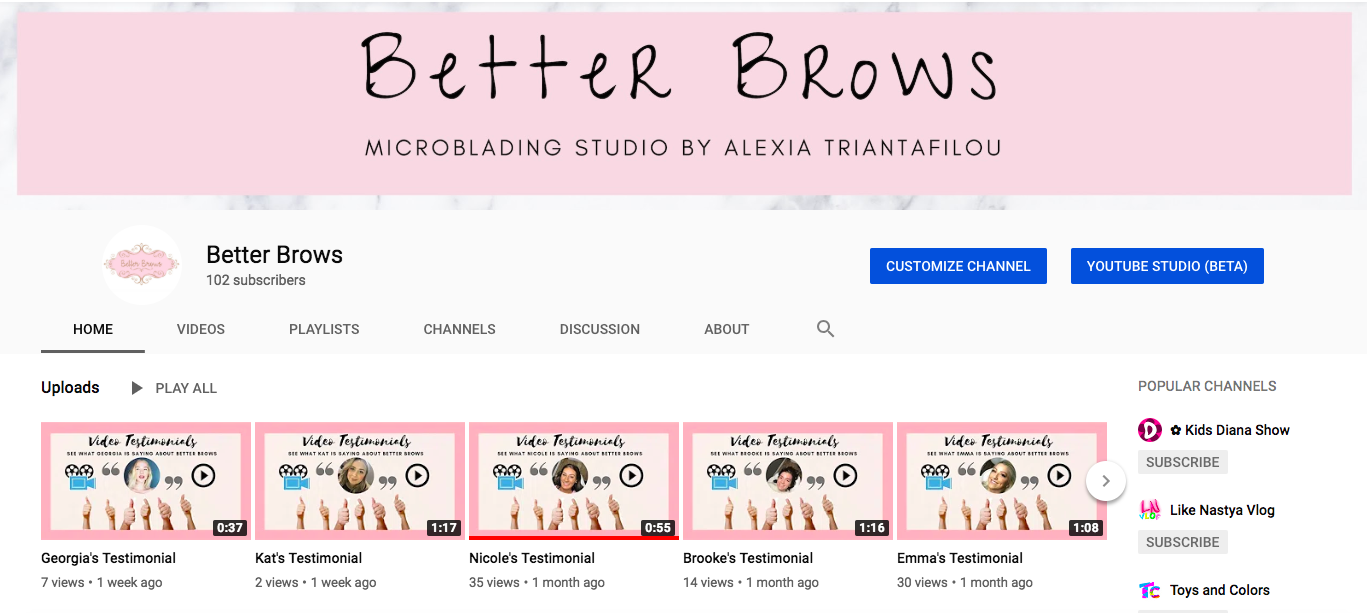 Microblading FAQs 
We know microblading is still a pretty new procedure, especially here in the midwest of the U.S. so we want to share everything we know about microblading! You can get to know more about us and the facts that we provide. Videos start from as simple as what is microblading to all the nitty-gritty information such as can you get microblading while pregnant, over a scar, how long does it last, what the process looks like, etc.
Watch all our Microblading FAQ videos here!
Click here to see a full list of FAQ with answers!
Microblading Behind The Scenes
Behind the scenes is a huge part of microblading that we know you enjoy watching! It's quite amazing the process that takes place from the second you start on the brows until the very end. We first start by asking the client about their desired look and sometimes they show us pictures and then we start mapping out the brow outline onto their face. We use special tools to make the brows perfect for your face because each pair of brows is different. We show how we do this and next you'll see how we start the actual microblading process. The detail is so intense you can't stop watching! But best of all is the client's reaction when we show them their new brows!
If you see in our behind the scenes videos, it's not as complicated of a process as most individuals think. First, we start the brow design outline, get your approval, pick a color, do the actual microblading, then finish by reviewing the aftercare. It goes so quickly because we are experts at what we do and have numerous testimonials to prove it so we want you to hear from these individuals yourself!
Click here to watch our behind the scenes!
Video Testimonials
Video testimonials are our favorite! We loving hearing back from each individual about their experience and how microblading has changed their life. No more spending time in the mirror each morning trying to make their brows perfect and an overall confidence boost. If you're reading this you most likely understand how important eyebrows are to your face and how much they make a difference. That being said hearing back from you about how much we have impacted your life is what keeps us going! It is the reason we do what we do.
We want all your questions to be answered all in one spot because we know how frustrating it is looking for answers all over the web or sometimes not even finding the answers you want. So many of our clients love that we have a channel of everything they're looking for right in one spot!
Click here to subscribe to our YouTube Channel to learn everything about Better Brows Microblading! We look forward to sharing everything you ever wondered about microblading and much more fun!
Click here to watch our testimonials! 
Click here to read Better Brows' reviews!
Read here  about the best-recommended microblading in Cincinnati!