Best Microblading in Cincinnati
Best microblading in Cincinnati…Why go to Better Brows? We got your answer! But first off, what exactly is microblading?
Microblading is a form of semi permanent makeup that gives the illusion of real hair like strokes. It is done with a manual hand tool where pigment is inserted into the skin, creating the look of natural hair.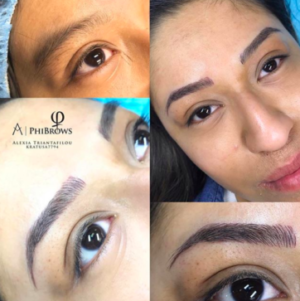 8 Reasons why Better Brows provides the best microblading in Cincinnati:
We are licensed! The best microblading in Cincinnati or anywhere in the world is always done by an artist who is licensed. If we care as hard as we do about our work, we care just as much about keeping you safe and practicing sanitation! A tattoo license, microblading certification, bloodborne pathogen, and first aid certification are required. We strive for nothing but the best so therefore provide the best microblading in Cincinnati! You may think you have found the best microblading in Cincinnati, but you better call the local health department to be 100% sure they are licensed! We have proof of our license in the salon and are happy to show you!

We are certified. This goes hand and hand with being licensed but is also different. Having a tattoo license is following certain safety requirements, but just because you are able to pass being certified, this doesn't always mean one is certified in a skill. At Better Brows we have MULTIPLE microblading certifications,  bloodborne pathogen certification, and first aid certification. All of these are required and only the best microblading in Cincinnati has all of these. It shows we really take our skill serious and are knowledgeable about how to properly handle sanitation when setting up, if something were to happen during a procedure, and also how to clean up in between each client to prevent cross-contamination. Again, we have proof in our salon on display so come check us out!

We are open and honest. No matter what your question is, we always have an answer! Not only are we an artist, but we are well educated on the medical spectrum of microblading which is not commonly seen, unfortunately. This is scary! Think about it, if you can your artist a question about a scar on your eyebrows for example, they should be able to examine it, give feedback, ask questions, and provide you with a solid answer. If your artist hesitates to answer or is not sure, it may not be in your best interest to go here. After all this is your face! The best microblading in Cincinnati is here at Better Brows where we provide you with the most honest answers. We are very honest if microblading is not for you. For example, when you book an appointment we provide a screening and if you have oily skin we require you to send a picture of your brow area so we can inspect the skin and provide you with an honest answer if microblading will work for you or not. Also, if you have an auto-immune disease or allergic to certain ingredients listed we will not allow you to get microblading because you will not heal properly and we only want to provide the best results! There is no sense in moving forward with someone who will not retain microblading and be unhappy in the end. Ask us anything and we got you covered 🙂 The best microblading in Cincinnati is conveniently located too! Check out of booking screening here.
We have a huge portfolio of before and afters! Check us out here! Microblading is both an art and science. Therefore, it requires a ton of practice, precision, detail-focused work, over a long course of time. We create perfect eyebrows customized differently for each person's face. The way we determine shape is by using a golden ratio compass. The compass is adaptable for each person's face in order to find the perfect proportion on their brows based off one's natural facial features. The best microblading in Cincinnati and in the universe create perfect shapes for their client's eyebrows and use this method. It is not easy and is another reason why may have not heard about the compass. And let's be honest, if the shape is off, it throws the face off and looks funny. We are not only experts at shape, but also at the actual skill of microblading. We use top quality tools, products, and pigments, creating beautiful crisp hair strokes, giving the most natural look. Also, we follow natural hair growth which most pictures floating the internet do not and this is why a lot of microblading looks unnatural. This is why reviewing before and after pictures are a must! We have been called best microblading in Cincinnati by magazine companies within our own city 🙂 
We have all amazing reviews! It may sound a little obvious that checking reviews is a must if you are looking for the best microblading in Cincinnati, but a daily reminder never hurts! Click here to see our reviews! Botched microblading constantly floats the internet and if the poor person whose face got messed up did their research this would have most likely been avoided. Not only are our reviews all 5 stars on google, but we also have testimonial videos of clients speaking out which mean so much to us! If you can hear other clients sharing their positive experience while seeing their brows on fleek you can't go wrong! With over 90 positive reviews we can't be wrong! The best microblading in Cincinnati is right here at Better Brows! 

We have amazing healed results! Now if you're looking at a gallery of work most likely almost all the pictures are immediately after results. However, what about the healed results of microblading? The best microblading in Cincinnati, here at Better Brows has amazing healed results. This means, when you come back 6-8 weeks later, and even after that, the results are still beautiful and natural. Whether you think it's the best microblading in Cincinnati or the best microblading in a different country you must ask to see some healed results. Ask for 6 weeks, 6 months, and even a year healed just to know what you're getting into. If the artist places each stroke properly into the skin, then the healed results should remain beautiful. This is super important and often overlooked because it is not often talked about. You may think you found the best microblading in Cincinnati until you ask for healed results and the artist can not provide you with any or struggles to answer this questions. This is a red flag…run! This is probably one of the most important aspects of microblading and definitely a way to find the best microblading artist in Cincinnati. We are right here at Better Brows! 

We are honest and screen you before we accept you for microblading. Yes, you read that correctly. Before booking an appointment we make you review a list of important subjects to ensure you are a good candidate for microblading. For example, if you are pregnant or breastfeeding we recommend you hold off until after. Also, if you have oily skin we ask to see a picture to ensure your results will still remain optimal. We are the best microblading in Cincinnati for a reason, this being one of many! When reviewing other sites you will see they will just let you book even if you aren't a good candidate, which isn't good. We strive to make each and every one of you happy, so therefore this screening is important to us and you. Check out our screening list here!

We go over aftercare in great detail and provide you with the best! Being told we are the best microblading in Cincinnati means a lot to us. For example, our clients say they are nervous for the healing when they brows scab and peel chunks of pigment off because they've read about it online or watched videos. However, with our aftercare you should never scab and when our clients hear this it is almost instant relief. They say why? When we go into great detail and provide them with Better Brows' aftercare sheet and products to take home. We explain how the skin heals and it all makes sense to them! Being provided with bad aftercare can greatly affect the brows' long lasting results. 
No Regrets With Better Brows
We take our job serious and never stop practicing our skills. It is our job to always strive to keep our reputation to be the best microblading in Cincinnati and take the best care of you. We love each one of you and look forward to doing your brows!